DUAL PROTECTION AGAINST MITES
Besides the Ultrafresh antimicrobial treatment, which inhibits the reproduction of mites, fungi and bacteria, applied to feathers and goose down while still in the processing phase, all Plooma fabrics have NOMITE international certification, which guarantees the fabric used in manufacturing pillows, quilts and pillow tops is waterproof to feathers and goose down (do not leak) and has such a closed weave that it does not permit the migration of mites, and is thus indicated for those with allergies.

The NOMITE brand indicates you made the right decision.

Even if you have allergies or asthma, you do not need to relinquish the natural comfort of sleep provided by the feathers and goose down.
This fact has been scientifically tested and proven.*
The scientific results were also released by the PAS 1008** edition of the German Standardization Institute.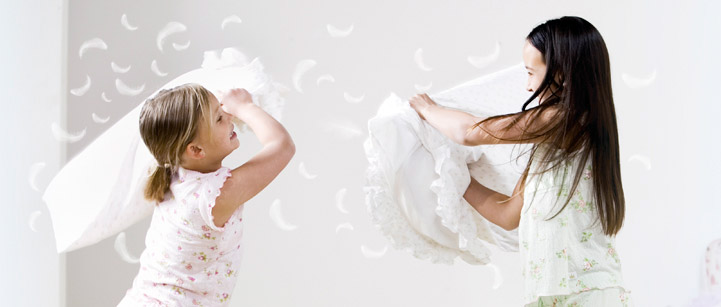 Tips for those with allergies:
Some advice for people who have allergic reactions to domestic mites or for whom the probability of allergic reactions is high:
• Air out the bedroom and bed blankets regularly and intensively. This reduces dampness in the room and the bed linen, while also creating an unpleasant environment for the mites.
• The bed linen should be washed and/or cleaned as per washing instructions.
• Do not allow the bed linen to get too old; change it regularly.

* "Opinion on the evaluation of allergy relevance to goose down (keratin), "Prof. Med. Dr. Hofmann, former director of the Clinical Pediatric Institute at the University of Frankfurt A. M. House dust mite allergen in pillows", Opinion of the Wellington Asthma Research Group, Wellington School of Medicine, New Zealand" Ecological analyses about house mite allergies", Prof. Dr. Dr. H. W. Jürgens, Institute of Anthropology of the University of Kiel.

** (Publicly Available Specification - PAS) prepared by the EDFA – Association of the European Bedfeather and Bedding Industries with the participation of the Institute of Anthropology of the University of Kiel and the DIN – German Standardization Institute technical department.

Legally responsible for printed content: European Down & Feather Association, Thomas-Mann-Str. 9a, 55122 Mainz, represented by the manager, Juliane Hedderich, graduated in political economics.
Visit website: http://www.nomite.de/en/home.html